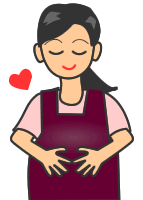 Philosophy of Active Birth: For Baby, For Mom
Active Birth is a birth event where Mother and baby are in harmony and cooperate in childbirth together. It is the birth process after an essential energy of mother's inherent ability. Based on a freestyle approach under our supervision, you can walk around during contractions or you may position yourself in any form for delivery. A baby comes out quite naturally in Active Birth, and you may feel tremendous achievement and satisfaction after delivery.
Reputation to Active Birth:
Active Birth is a conservative birth-method, however, it is not the popular method used these days. Yet, the Active Birth has been understood as a natural-healthy birth process with mother's self-reliance and baby's self-esteem. Thus, many women who is pregnant or is considering having a family, please contact us for Active Birth information.


Who wants Active Birth? :
She desires of…

Managing her maternity life by herself

Birthing a baby with minimum medical attentions

Birthing a baby naturally

Safely Birthing a baby as facing the birth event
under midwife's guidance

Minimizing stress to a baby




Information to Apply Active Birth・Underwater Childbirth at Mejiro Birth House:
Mejiro Birth House conducts orientation classes twice a month. We recommend you to attend the orientation to understand our vision, program, system, and facility as part of your decision making process. You need to conduct your first pregnancy exam at Obstetrics and Gynecology hospital or clinic. We can guide you to our affiliated clinics for the pregnancy exam. The affiliated doctor will monitor you and the baby's condition, amniotic fluid volume (AFV), in conjunction with the Mejiro Birth House birth-program.
If you prefer underwater childbirth, please ask us at the first consultation discussion.



Affiliation to Obstetrics and Gynecology Hospitals:
There is an official guideline for the birth process at midwifery-maternity centers under Japanese law. Mejiro Birth House follows the guideline and affiliates with governmental medical agency and clinics. We are always contact with the affiliated clinics for your pregnancy condition.

In early pregnancy, you need to undergo pregnancy exams by an affiliated doctor and maintain a good health condition for your birthing process by Mejiro Birth House or any other midwifery-maternity center. We cannot perform deliveries if you already underwent a C-Section procedure, had uterus fibroid removed, or have chronic conditions or serious anemia.
It is required for you to see an affiliated doctor for a pregnancy exam, blood test, and echocardiographic exam in the 20th, 30th, and 36th weeks of pregnancy.
If we find out highly emergent condition, we may contact to a general hospital.


Differences of Childbirth System at Mejiro Birth House from that at Obstetrics and Gynecology Hospitals:
The birthing program at Mejiro Birth House is very different from the programs at hospital and clinic obstetrics and gynecology departments. We focus on a goal of natural and healthy childbirth, maintaining healthy pregnant condition in natural way. We provide our pregnancy exams only twice after the 36th pregnant week. At the delivery, we mainly support Active Birth method. You may invite your family members including small children to the delivery room, and stay with your newborn baby and family members in our Birth House after the delivery. Please refer to a leaflet for more details and service fees.


Guidance for Healthy Active Birth:
We always tell pregnant mothers, "your babies can hear from you, feel you, and remember inside of you." The birth process is the process that mother and baby to work together. Therefore, we highly recommend that you keep contacting your baby inside of you for an easy delivery. Your lifestyle also affects to the birth process. We will guide you how to take care of your habits of diet, sleep, or more.